C2E2 has come to Chicago again bringing some of my favorite graphic novels and graphic novel artists and writers back to the Windy City. This is especially good since some major publishers seemed to have skipped out this year. [Tor, I'm looking at you]. The third major element to the convention is cosplay, and it's not my thing . . . unless it happens to be a character from my favorite graphic series of the last few years. This cosplayer really sold it: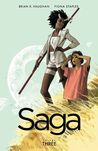 This is Gwendolyn from the Saga series written by Brain K Vaughan, art by Fiona Staples. The series covers a range of subjects: war, race, racism, sacrifice, class. All set against a galactic backdrop of diverse aliens. And it's brilliant. Highly, highly recommended.
Saga, Volume 1–5 stars
Saga, Volume 2–5 stars
Saga, Volume 3–5 stars
Saga, Volume 4–4 stars
Saga, Volume 5–5 stars
Saga, Volume 6–5 stars
Saga, Volume 7–4 stars
It was also nice to reconnect with the creation teams behind Liberty: Deception who put out some stunning images in their dystopian space series in which humans are making a mess of themselves and each other without need of aliens.

The great news from them is that their next issue is ready to go to print and they've prepared a Histories book for their world.
[w/ Casey Bailey] Liberty: Deception, Issue 0–4 stars
[w/ Raymund Bermudez] Liberty: Deception, Volume 1–4 stars
Liberty: Fringe Iconography Guide–4 stars
Finally, the creative team behind Twisted Dark, Volume 1 is here. They've really been productive and have 6 volumes out.


Twisted Dark, Volume 1
Now, I'm looking forward to discovering new stories and art as I wander back down to C2E2 again tomorrow.