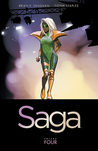 Saga, Volume 4 by Brian K. Vaughan
My rating: 4 of 5 stars
The series continues with the brilliant graphics of Fiona Staples conveying the emotions and motivations of the many characters. The story is moving forward with the narrator, Hazel, now a toddler walking and minimally speaking.
The previous volume showed the many ways people feel kinship and define family and love. This next installment counters those arguments, showing how relationships fall apart and in what ways loneliness and alone-ness can take hold. The wedges driven between the characters are many: substance abuse, work, isolation, kidnapping, prejudice, estrangement, misunderstandings, a name whispered in one's sleep, and an untimely death. Every relationship is tried and shaken. The brilliance is in showing how "some nights, even two old friends deciding to get as close as humanly possible . . . . could still be worlds apart.' Often, it's the other characters acting as catalysts to strained and changed relationships. As Hazel notes, "A lot of people who came into my family's life looking like heroes ended up acting more like villains. I wish I could say the opposite was also true, but that was pretty f**king rare."
The many estrangements lead to some rather interesting new partnerships that shake up the possibilities of what's to come. This entire series is highly recommended.
Check out my reviews for other installments of Saga:
Saga, Volume 1
Saga, Volume 2
Saga, Volume 3

[Check out my other reviews here.]