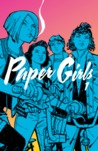 Paper Girls, Vol. 1 by Brian K. Vaughan
My rating: 3 of 5 stars
From the writer of the brilliant Saga graphic series comes a new series that upon first introduction seems the lovechild of a feminist Stand By Me and Lovecraft. Four 12-y.o. girls newly break into the "Boys Only" club of newspaper delivery. One has also become the first local female altar "boy." Tough as these preteens may be, they're still suburban Cleveland 12 y.o. females armed only with their newspapers and bicycles. For safety's sake, they pair up to avoid harassment and worse to get through Halloween pre-dawn as roving teen boys are still out pranking.
Set in 1988, the nostalgia factor is high for me from music and movie references to the levels of technology and video games. [My brother turned 13 within a week of this story setting.] It's also accompanied by 1980s homophobia and AIDS-phobia, but not without getting called out by a couple more enlightened characters. This is no mere nostalgia ride, it's divergent history and urban fantasy with most people seemingly disappeared or raptured away while the girls are on their routes. Also, massive pterodactyl-like beasts fill the air with riders no less, and alien-speaking mutant or mutilated teen boys lurk in the shadows. It's almost Lovecraftian in its WTF-is-going-on approach, but then information starts to roll. Multi-dimensional time and space jumping pawns in a future[?] battle between teens and old-timers–this is metaphor in the extreme.
Artist Cliff Chiang makes good use of his material. The story sits in the "High Potential" box for this volume with the expectation that more answers and greater world-building will play out soon in subsequent volumes.
I've previously read Vaughan's:
     Saga, Volume 1–5 stars
     Saga, Volume 2–5 stars
     Saga, Volume 3–5 stars
     Saga, Volume 4–4 stars
     Saga, Volume 5–5 stars
     Saga, Volume 6–5 stars
     Saga, Volume 7–4 stars



[Check out my other reviews here.]