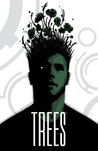 Trees, Vol. 1 by Warren Ellis
My rating: 4 of 5 stars
This was an intriguing introduction into the work of Warren Ellis for me. Traditionally, I have not been quick to reach for graphic novels and serial comics. However after wetting my whistle with The Walking Dead, Compendium 1, the Saga series by Brian Vaughan, and the reMIND series by Jason Brubaker, I was ready for the extraordinary world of Trees.
This dystopian urban fantasy takes place in various locations around the world ten years after mysterious, inert "trees" enter Earth's atmosphere and have settled in scattered locations across the globe. They look like colossal off-shore oil platforms that extend up and out of the atmosphere. In their wake, the communities and cities of Earth left in the vicinity of the trees sprout questionable micro-cultures as moneyed people [and the police] move away. The analogy to the descent of neighborhoods downwind of factories and processing plants in the industrial era is poignant.
By showing multiple, unconnected locations, Ellis is able to postulate multiple directions that this descent could veer. On the Somali/Puntland border, territorial control of the tree equates power. Under the shadow of the Italian tree, a fascist street gang controls the streets as even the mafia have moved on. In Manhattan, the politics of the tree set the tone and platform of the political debates. In China, a new walled city of Shu is formed at the base of the tree where outcasts and the bohemians that don't mesh with traditional Chinese society can flourish and live freely. [This particular setting is refreshingly the most queer-trans positive depiction of society that I've ever encountered in literature.] Finally, in arctic Svalbard, scientists are starting to notice changes around the tree. Their tree seems to be on the verge of interacting . . .
I enjoy this story and recommend it. It's exploration of what people do when society turns its back is fresh and enlightening. I obtained a copy through NetGalley in exchange for a review.



[Check out my other reviews here.]