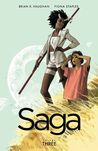 Saga, Volume 3 by Brian K. Vaughan
My rating: 5 of 5 stars
This is my second time through the brilliant continuation of the Saga series that is adeptly written. The extraordinary graphic renderings of Fiona Staples cannot be overstated: the nuance of each unique combination of emotions and motivations is conveyed compellingly and passionately.
If the second volume was themed around war and its long term effects on the peoples and cultures involved, then the third is about love and family, but not in a sanguine nor saccharine way. It's about the fierce choices, the questions of what one is willing to do for blood, for love, and for the families one chooses.
Still central are the star-crossed lovers and their mixed-race child that have infuriated the races of each of the parents. But now relationships of all sorts are explored for both protagonists and antagonists, alike. [No less than 5 mercenaries are given the deeper treatment evoking a range of sympathies.] Some of the complex and complicated relationships explored: widow & widower, sibling mercenaries, first lovers/ex-lovers, mercenary & adopted child, survivor & memory of dead loved one, parent/child, and combatant & fellow warriors. Many of the relationships are hauntingly explored through dreams and visions.
Especially noteworthy is the inclusion of a variety of queer relationships. One of the haunting visions is of a lesbian first love. The forbidden love of the central characters is also joined thematically by the gay lover/journalists from a less inclusive society that are trying to report on the core couple. Finally and most risque-ly, queer-confused dreams vex a straight soldier in thoughts about his trench-mates.
This galaxy keeps getting richer and deeper to great effect. It's highly recommended.

Be sure to check out my other reviews of the Saga series:
Saga, Volume 1
Saga, Volume 2
Saga, Volume 4

[Check out my other reviews here.]