What a great year for reading! I posted more than 300 reviews this year and have some recommendations to give in many different genres. I will try to limit the "Best of" Awards to things published in 2015 or re-published in 2015 after getting first noticed in 2014. [This is common for short stories and novellas.]
POETRY: [tie]

–Robert Okaji's If Your Matter Could Reform is exquisite. [5 beautiful stars] Note that his poetry blog is listed below in best creative writing blogs of the year, too.


–Jamie Sharpe's Cut-up Apologetic is funny, sharp, and poignant. [5 pointed stars] Canada should be proud.

Honorable mention to the best long narrative poem I read this year: Mary M Schmidt's Cat Lady. [4 fantastical stars]




GRAPHIC PUBLICATION:
–Fiona Staples [illustrator] and Brian K. Vaughan [writer] for Saga, Volume 5. [5 imaginative stars] Read the whole series; it's half guilty pleasure and half brilliant political commentary.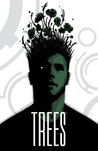 Honorable mention to Warren Ellis [writer] and Jason Howard [illustrator] for Trees, Vol. 1. [4 socially-aware stars] This is a series to watch out for.





NONFICTION:
—Evolving Ourselves by Juan Enriquez and Steve Gullans. [4 delving stars] Speculative science probing the forefront of the genetics game.






ANTHOLOGIES [single author]: [tie]
–Mike Russell's Nothing Is Strange. [4 absurd stars] Absurdism at its best, and unrelentingly so.
–Tananarive Due's Ghost Summer [4 eerie-&-bleak stars] Southern decadence, apocalypse and horror stirred together.





ANTHOLOGIES [themed, multiple authors]:
—Mermaids and Other Mysteries of the Deep editted by Paula Guran for Prime books. [4 dysmorphic stars] Gender dysphoria and body dysmorphia are explored across cultures and traditions.





ANTHOLOGIES [unthemed, multiple authors]: [tie]
—Writers of the Future Volume 31. [4 emergent stars] A diverse cast of previously unpublished fantasy and sci-fi competition winners.

–The 3 tome set of Prime Books "Best of 2015" series [4 synthesizing stars]:
The Year's Best Dark Fantasy and Horror: 2015 editted by Paula Guran.
The Year's Best Science Fiction & Fantasy: 2015 editted by Rich Horton.
The Year's Best Science Fiction & Fantasy Novellas: 2015 editted by Paula Guran.
BLOG [poetry, single author]
–Robert Okaji's O at the Edges. He also authored one of the poetry collection picks above.
BLOG [creative writing, single author]
–Dakota Lopez's Tales from Atelinor. A series of fantasy shorts spanning millenia on one non-Earth world.
BLOG [creative writing e-magazine]
—The Eunoia Review. Mostly poetry, some short fiction. Posts twice daily.
Do you agree? Disagree? Did I overlook a big one? Feel free to let me know.
In Jaffalogue's Best Reads of 2015: Part 2, I conclude my "Best Of" picks with fiction short stories, novellas and novels broken down by genre including fantasy, urban fantasy, sci-fi, horror, thriller and more. Happy reading.