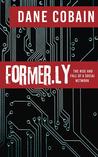 Former.ly: The Rise and Fall of a Social Network by Dane Cobain
My rating: 4 of 5 stars
The cutthroat world of internet startups and social networks reveals its darkest side in this thriller about e-commerce and murder. Most enjoyable are the descriptions of the slapdash, duct tape protocols of the startup office–people living at the "office," and job interviews at nightclubs.
Dan's a freelance coder with not enough business coming in. The relationship with his live-in girlfriend has hit the doldrums. Then he lands the interview with Former.ly, an up-and-coming, start-up social networking site . . . for the dead. Clients write their bios while alive, but it doesn't post until they've died. Death = money.
The company runs on high secrecy, sloppy logistics, and the skin of its teeth. Until a company party ends with a murdered journalist. The press is all over it.
The quirky staff of Former.ly feel both the stress and thrill of burgeoning success as questions and deaths propel their business . . .
I received my copy of this novel directly from the author through bookreviewdirectory.wordpress.com. I previously read and reviewed this author's Eyes Like Lighthouses When the Boats Come Home.
nbsp;


[Check out my other reviews here.]